Some of the great companies we work with:
Flags 4 Golf

Need flags, tee-signs, cart signs or banners?  Call us to solve your tournament advertising requirements.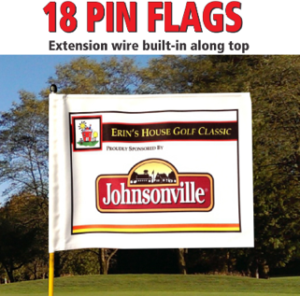 Custom Pin Flags – Unique wire embedded along the top of the flag to keep the flag horizontal the  entire time. No need for a strong wind to see the sponsor's logo. Finished flag size is 18.5" x 13". Image size is 11" x 17". Single sided only.  18 unique sponsors can be accommodated.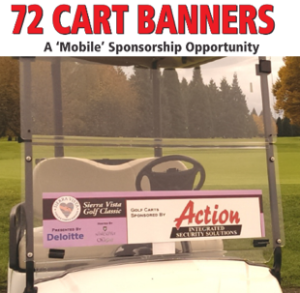 Cart Banners – Our proprietary tape allows the banner to be strong enough to hold to the windshield or hood of the power cart, but not so strong as to ever leave any residue or glue behind. The course will thank you for our unique, easy-to-install cart banners.  Never worry about air bubbles or putting them on straight – our banners are easily repositioned.
2 Sizes Available
Standard Tee Signs – Size 18" x 32". Our standard tee signs are ground mounted,  so they won't flap in the breeze or come out due to strong winds. Because they are on a slight angle, sponsor's logos are more easily viewed than on the oft-used H Stake signs, which are straight up and down and tend to flap in any breeze.
Tee Markers – Double Sided 14" x 20" and tented to a finished size of 14" x 10"…they are larger than most for better visibility
 Easel Boards
Standard Size 32" x 36"
Half Size 18" x 32"
Banners – Vinyl Banner with grommets. Various sizes available
Trivia Contest – Same as the Standard Tee Signs but a unique way of bringing recognition to the charity by providing a fun interactive contest that doesn't require any golf skills. Since anyone can win a prize for the most correct answers, this gives the less-skilled golfers a chance to win something.
18 Stock Questions, 2 answer keys and 40 Scorecards 
18 Custom Questions, 2 answer keys and 40 Scorecards
Event registration software that helps your events succeed and makes you look good.